❮ Roster
Jennifer*NEW*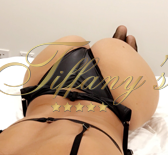 Sugar and spice with all things nice.
New to Tiffany's, Jennifer is a very sexy, warm and friendly lady.
Met Jennifer today, her first day in Tiff. She is a natural and makes you feel comfortable from the word go.
I will rate her 8/10 and went beyond my expectation. See u soon
S.